**Monday – January 18th**
Crossfit Cle – CrossFit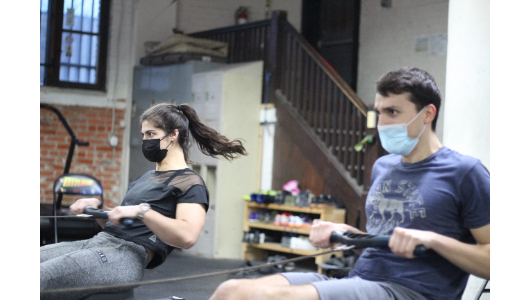 Pitter patter! 20 minutes to get it done!
Warm-up
Warm-up (No Measure)
2 rounds:

10 dumbbell snatch

10 dumbbell strict press (5 per arm)

10 overhead dumbbell lunge (5 per arm, alternating legs each rep)
10 K squat

10 PVC passthrough

1 wall climb and 10 second handstand hold

10 sliding cossack squat

5 snow angel

5 I raise

5 around the world (each way)

20-30 second handstand hold/some half ROM handstand pushup reps
Review and demo of the Cluster for the post WOD.
Metcon
Metcon (Time)
3 rounds for time: *20 minute cap

30/24 calorie row

20 handstand pushup

10 deadlift 275/185#

20 toes to bar

30 wallball shot 20/14# to 10/9′
Weightlifting
Cluster (10×1)
Perform a clean and come out of the squat straight in to the press to perform a thruster.
Starting at 20 minutes on the clock you have 10 minute window to build to a 1rm thruster for the time allotted.

*When you load the thruster for the workout, put what you want as your first thruster weight on your bar so you can easily strip to it and then be efficient with your 10 minutes to build up.