**Monday – February 7th**
Crossfit Cle – CrossFit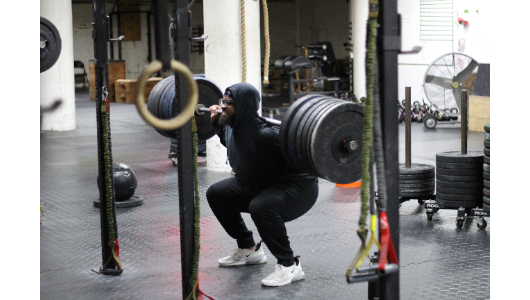 Let's welcome Chi to the gym. Clearly he comes in with some practice on the barbell!
Warm-up
Warm-up (No Measure)
3 minutes:

5 ring row / pullup

1 wall climb and hold for 5 seconds

10 air squat
5 sumo foldover

10 pvc passthrough

10 thruster

5 k-squat
2×30 second Spiderman stretch R/L

90 second cranky elbow stretch
Weightlifting
5 superset rounds on a 3 minute clock:

5 thruster

5-10 GHD situp

5-10 hip extension
Thruster (5×5)
Build to a heavy set of 5. You may work from the floor or out of the rack.
GHD Sit-ups (5 sets)
Work smooth quick reps.
Hip Extension (5 sets)
Prone on a GHD. Neutral spine, working hip ROM.
Metcon
Metcon (8 Rounds for reps)
Alternating Tabatas:

Air squat

Alternating dumbbell snatch 50/35#

Wall climb into shoulder taps
*Rx+ handstand walk. Count reps completed each round.
50 Burpee February
50 Burpee February – Day 7 (Time)
For time:

50 burpee 6″touch
*You may jump back and down into the burpee but must step out of each rep Spiderman style.