**Monday – February 21st**
Crossfit Cle – CrossFit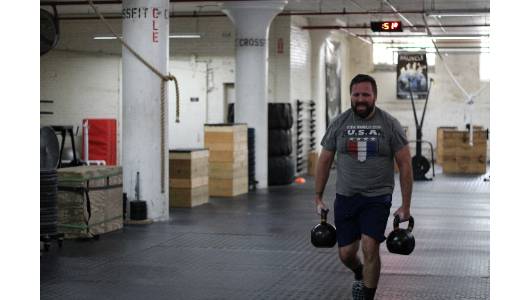 Hang on and hurry up!
Warm-up
Warm-up (No Measure)
3 rounds:

10 air squat

6 lunge and twists

4 birddog R/L

2 yoga inchworm
1 minute banded lat stretch R/L

2 minutes on a foam roller
10 crossover I raise

5 hang to hollow

5 crossover snow angel

5 dumbbell strict press in an active lunge
Weightlifting
8 superset rounds on a 2 minute clock:
Dumbbell Lunge Complex (8×10)
Perform the complex with a dumbbell or a set of dumbbells as prescribed.
10 single arm overhead walking lunge steps (5R arm/5L arm)
Strict Toes-To-Bar (8×3)
Metcon
Metcon (Time)
3 rounds for time:

35 wallball shot 20/14# to 10/9′

15 pullup
*Rx+ for chest to bar pullups.
50 Burpee February
50 Burpee February – Day 21 (10 Rounds for time)
10 rounds each for time, rest 1 minute between rounds:

5 burpee handstand pushup (drop your chest to the floor then kick into a handstand and do a handstand pushup)
Scale with a burpee pike pushup: Drop your chest to the floor. Move into a pike position and do a pike pushup. Jump to your feet and standup.
50 Burpee February – Day 20 (2 Rounds for time)
2 rounds for time, rest 2 minutes between rounds:

25 lateral burpee

*Over an object that allows a great deal of speed.
Rx+ if you do them outside!