Crossfit Cle – CrossFit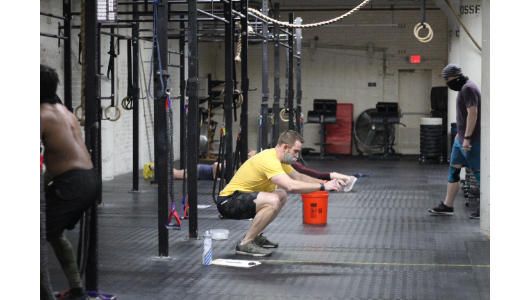 Simple, not easy!
Warm-up
Warm-up (No Measure)
2 rounds:

250m row

15 PVC passthrough

10 squat and reach
10 situp and reach across

30 second supinated grip hang

10 snap to hollow
2 minute keg drill or other shoulder mobility
Weightlifting
Overhead Squat (7 superset rounds on a 3 minute clock)
3 overhead squat (with the 3rd rep having a 3 second pause at the bottom)

15-30 second L-hang

*Build from 70% to 90% of your projected 1RM from Wodify.
Metcon
Metcon (Time)
5 rounds for time:

15 box hop 24/20″

12 toes to bar

9 handstand pushup
*This is intended to be a sub 10 minute workout. Ideally you will do movements nearly unbroken.

**Rx+ for 30″ box and strict handstand pushup.