Crossfit Cle – CrossFit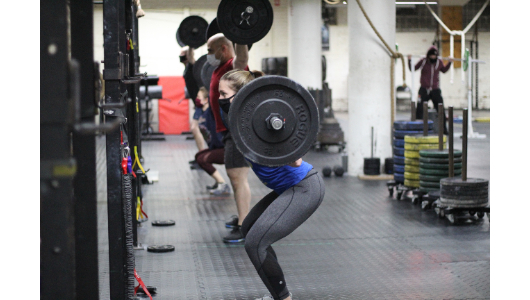 Back under the barbell for a few rounds.
Warm-up
Warm-up (No Measure)
2 minute row, crescendo from 20 to 30 strokes per minute

5 I-T-Y raise

10 PVC overhead squat

15 passthrough
Spiderman into lunge and twist down

High kick and floor touch back
4 minutes pick your poison mobility:

Banded lat stretch

Lat smash

Keg stretch

Any mobility that helps you out with overhead squats.
Weightlifting
Overhead Squat (8 superset rounds on a 3 minute clock)
2 overhead squat

4 strict toes to bar or knee raises (alternating raising to the right and left)

*Start around 70% of your projected 1RM on Wodify and build to 95% if possible.
Metcon
Tabata all over that Rower! (AMRAP – Reps)
12 minute AMRAP on a Tabata timer:

Odd minutes – Row calories

Even minutes – Burpees over rower
*Score is total rep count. Let the rower keep a running total (DON'T RESET THE MONITOR) and focus on keeping track of your burpees. Rx+ if you use a tall rower.