**Friday – September 3rd*
Crossfit Cle – CrossFit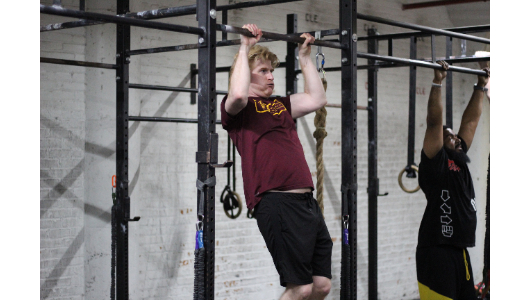 Another newer face among us, here is John crushing some strict pullups!
Warm-up
Warm-up (No Measure)
2 rounds with a dumbbell:

10 alternating dumbbell snatch

8 alternating overhead lunge (4 R, 4L)

6 strict press (each)
5 crossover 90/90 raise and press

10 squat and reach

5 snow angel

10 sumo foldover
1 minute banded lat stretch R/L
Gymnastics
Metcon (Distance)
5 superset rounds in 12 minutes:

30 seconds upside down (work on any form of handstands, holds, walks, taps…)

7 hip extension with 2 second hold at the top
**Get upside down and challenge yourself while having some fun!

**Use the notes to record your movements.
Metcon
Metcon (Time)
For time: *15 minute cap

10 burpee box over 24/20″

10 overhead squat 135/95#

20 burpee box over

20 front squat 135/95#

30 burpee box over

30 back squat 135/95#

20 burpee box over

20 front squat

10 burpee box over

10 overhead squat