Crossfit Cle – CrossFit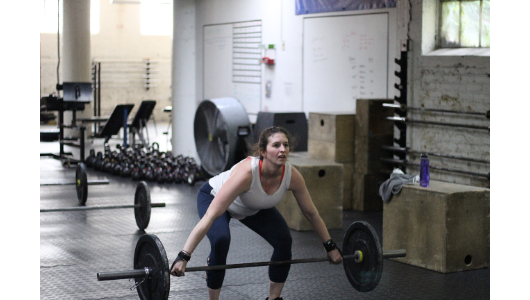 So good to see all these new faces! Welcome to CLE Gina!
Warm-up
Warm-up (No Measure)
200m jog

10 Cossack squat

10 PVC passthrough

10 overhead squat

200m jog
2 minute keg stretch

2 minute olympic wall squat stretch
With a PVC pipe:

5 down and finish

5 elbows high and outside

5 snatch balance

5 high hang snatch

5 low hang snatch
Review the complex and get bars out and start building up.
Weightlifting
Snatch Complex (Broken) (7×3 on a 2 minute clock)
Perform each rep/movement focusing on the quality of your movement. Each time the barbell is put on the floor, reset before starting the next lift.
Hang snatch

Low hang snatch

Snatch

*Perform as an unbroken complex for the first 2 reps, reset on the ground and perform the 3rd rep as a single. Build from 50% of your heaviest snatch to 75% or more if possible.
Metcon
Metcon (Time)
For time:

15-12-9

Cluster 135/95#

400m run
*Should be able to perform very quick singles on the cluster