Crossfit Cle – CrossFit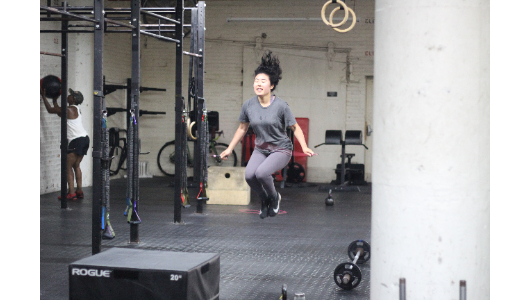 Never seen someone have so much fun doing double unders! Welcome to CLE Chichi!
Warm-up
Warm-up (No Measure)
200m row

5 yoga inchworm

10 spiderman windmill

15 pvc passthrough
2 minute olympic wall squat

2 minute keg stretch
With a PVC pipe:

5 elbows high and outside

5 high hang muscle snatch

5 snatch balance

5 hang snatch
Weightlifting
Snatch Complex (Broken) (10×2 on a 90 second clock:)
Perform each rep/movement focusing on the quality of your movement. Each time the barbell is put on the floor, reset before starting the next lift.
Power snatch

Snatch

*Start around 60% of your heaviest snatch and ascend each round if possible.
Metcon
Metcon (Time)
5 rounds for time: *12 minute cap

20/16 calorie row

15-12-9-6-3

Front squat

Shoulder to overhead
Use loads that allow you to do each set of front squats and shoulder to overhead unbroken. Rx weights: 95, 115, 135, 155, 185/65, 80, 95, 105, 125#.