Crossfit Cle – CrossFit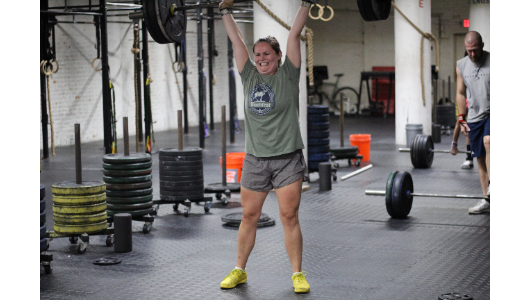 Good things don't come easy! Let's put some effort into those lifts!
Warm-up
Warm-up (No Measure)
2 rounds 45 seconds per movement:

Single under

Sumo foldover / Samson's stretch

PVC pipe passthrough/ around the world
10 crossover snow angel

3 cycles of the shoulder to overhead complex (with barbell)

5 I-T-Y raise
2 minute cranky elbow stretch

2 minute keg stretch
Weightlifting
Shoulder to overhead complex (10 sets of the complex:)
10 sets on a 2 minute clock:

Push press

Push jerk

Split jerk

*Build to a heavy very heavy load and hold for the final 3 sets. Use a rack.
Metcon
Metcon (Time)
For time:

21-15-9

Wall ball shot 20/14 to 10/9′

3x double under

Hang power snatch 75/55#
*Rx+ for 30/20# wall ball shot.