Crossfit Cle – CrossFit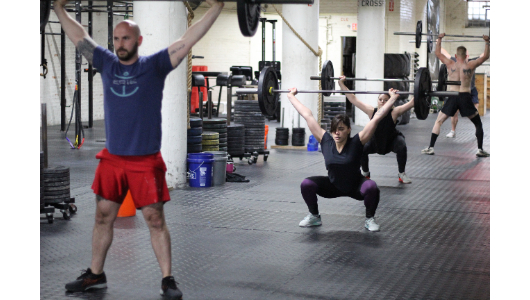 Using that overhead!
Warm-up
Warm-up (No Measure)
2 rounds:

5 pushup

10 air squat

Jog down

Backpedal back
10 pvc passthrough

10 squat and reach (3 second holds)

5 inchworm (no yoga)

10 pvc passthrough in an active squat

10 overhead squat
Review bracing and loading for back squats then practice 5 reps focused on staying tight
2 minute olympic wall squat stretch
Warmup back squat to begin around 70%
Weightlifting
6 superset rounds on a 3 minute clock:

4 back squat 70%+ of 1RM back squat

10 supinated band pull apart
Back Squat (6×4)
Do all sets over 70% if possible. Building and holding heavy for the final 2 rounds.
Metcon
Metcon (Time)
2 rounds for time on a Tabata timer:

100 double under (2 minutes max, 200 single under)

30 deadlift 135/95#

20 toes to bar

10 overhead squat 135/95#