Crossfit Cle – CrossFit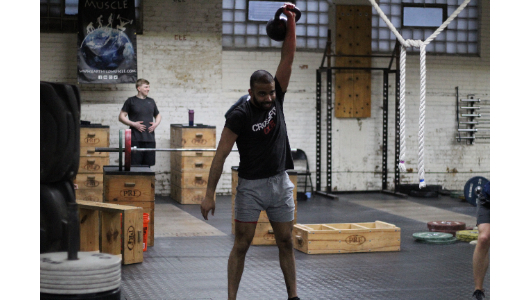 It's been a while!
Warm-up
Warm-up (No Measure)
2 rounds:

5 banded good morning

10 banded passthrough

10 ring row

10 scap pullup

5 single arm Russian kb swing R/L

5 kb snatch R/L
1 minute pigeon pose R/L

1 minute banded lat stretch R/L
Weightlifting
5 superset rounds on a 3 minute clock:
Deadlift (5×5)
Band resisted deadlifts. Build up to a heavy set of 5 for the day. Load bar with 50-65% of your 1RM deadlift.
Pull-ups (5x set)
Do 3-5 pullup negatives. focus on control and position. Rest as needed between reps.
Metcon
Metcon (Time)
10 rounds for time: *15 minute cap

5 burpee box hop 24/20″

10 kettlebell snatch 53/35# 5R/5L

*Rx+ for higher box and/or a heavier kettlebell.
Scale back burpee box hop reps as needed to keep round times under 90 seconds.