**Friday – January 15th**
Crossfit Cle – CrossFit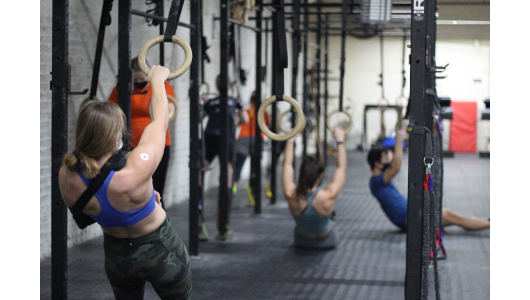 We may be moving differently or using different weights, but we have in common that we are all getting fitter!
Warm-up
Warm-up (No Measure)
3 rounds:

5 scap pullup

20' piked bear crawl (pillar to pillar)

10 hang to hollow

20' Samson's stretch
20 pvc passthrough

10 open palmed overhead squat

10 high low spiderman

2 minutes doorway stretch

2 minutes coaches choice front rack stretch
Weightlifting
Push Press Over and Back (5×2)
Perform a push press, lowering to your back and doing another push press off the back to then return to the front rack.
5 superset rounds on a 3 minute clock:

2 push press over and back

3-5 strict toes to bar, rings or rope

*If you don't have the shoulder ROM to successfully do this, then perform 2 behind the neck push presses and 2 in front (walk your hands in with the barbell overhead if possible to change grip or re-rack and adjust if needed).
Metcon
Metcon (AMRAP – Rounds and Reps)
5 minute AMRAP, 3 minutes of rest, then reverse your AMRAP progress for time:

3-6-9-12…

Overhead squat 115/80#

GHD or abmat situp

Pushup
Score with the rounds completed + the reps of the uncompleted round. 15+22=finished round of 15s and completed 18 OHS and 4 GHD into the round of 18s. Enter your rewind time in the comments for your second score.