**Friday – January 14th**
Crossfit Cle – CrossFit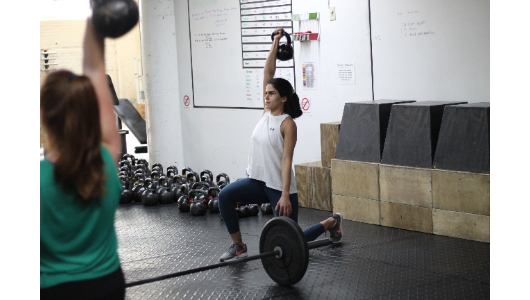 Hope you packed your lunge today!
Warm-up
Warm-up (No Measure)
High knees down

Butt kicks back

Over the hurdle under the hurdle

Lunge and twist

10 ring row

10 pushups (changing hand positions each rep)

10 scap pullup

10 updog windmill
1 minute banded lat stretch R/L

1 minute couch stretch R/L

1 minute pigeon pose R/L
Weightlifting
Dumbbell Lunge Complex (5 sets on a 3 minute clock)
Perform the complex with a dumbbell or a set of dumbbells as prescribed.
With a set of dumbbells:

1 power clean and push press

4 overhead walking lunge

4 strict press

6 racked walking lunge

4 hang power clean

8 farmers carry walking lunge

*Maintain heaviest manageable load for the final 3 sets. Record your dumbbell weight as a single collective set.
Metcon
Metcon (Time)
4 rounds for time on a Minute and 30 timer:

25 wallball shot 20/14# to 10/9′

15 GHD situp

10 chest to bar pullup
*Rx+ for 5 muscle ups in place of the chest to bar pullup.

**Minute and 30 timer: work for 60 seconds, rest for 30 seconds.