**Friday – February 5th**
Crossfit Cle – CrossFit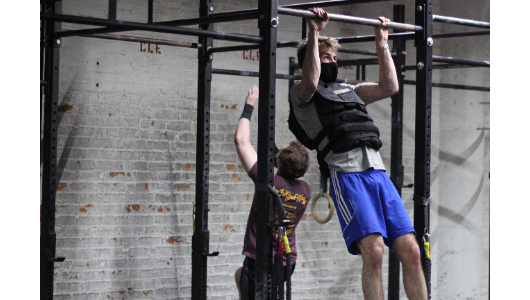 Forearms on fire!
Warm-up
Warm-up (No Measure)
90 second erg

10 kettlebell swing

10 goblet squat

10 kettlebell windmill (5 EA)

5 bent over butterfly forward strokes (holding change plates)

10 PVC pass through in an active squat

5 bent over butterfly backward strokes

10 kettlebell strict press (5 EA)
2 rounds with a PVC then barbell:

3 dip and hold 2 seconds

3 push press (full speed)

3 push jerk (pause in the catch 2 seconds)
Weightlifting
Push Jerk (30 minutes to establish a 1RM)
Work light and add mobility for the first 15 minutes to warm up. Fewer lifts, more weight and more rests in the latter half.
Gymnastics
Post WOD Burnouts:
Push-up Burnout:

4 Rounds:

10 Second High Plank Hold

10 Second Low Plank Hold(Just above floor)

10 Pushup(Start by lowering to ground from Low Plank)

*Aim for all 4 rounds unbroken. Adjust height as necessary.
Rest 3 minutes
Pullup Burnout:

4 Rounds:

10 Second Hollow Hold on Rig or Rings

10 Second Hold at Top of Pullup or Ring Row

5 Strict Pullup
*Complete with as few breaks as possible. Adjust to LIGHT band or ring rows as necessary.