**Friday – February 4th**
Crossfit Cle – CrossFit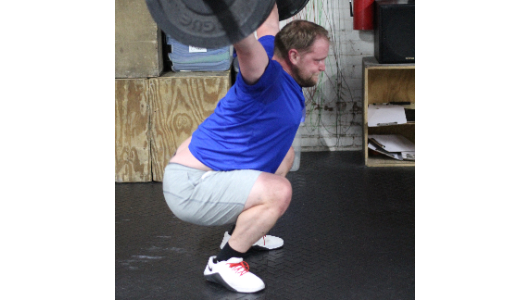 How low can you go?
Warm-up
Warm-up (No Measure)
High knees down

Butt kicks back

Spiderman

Stiff leg bear crawl
10 pvc passthrough

5 k-squat

10 pvc passthrough in a squat
10 birddog

1 minute wrist and forearm mobility

30 second pigeon pose R/L
with a PVC pipe:

3 down and finish

3 elbows high and outside

3 hang power snatch

10 overhead squat
When you take out your barbell to begin backsquat warmup, do 5 hang power snatch and 5 overhead squat before adding load to your bar.
Weightlifting
7 superset rounds on a 3 minute clock:

3 back squat (70%+)

Repeatable set of dips
Back Squat (7×3)
Work all sets at or above 70% of your 1RM.
Dips (7x set)
Work a reasonable volume that will become quite difficult the in final 2-3 rounds.
Metcon
Metcon (3 Rounds for time)
Each round for time, rest 1 minute between rounds:

21-15-9

Power snatch 95/65#

Overhead squat
*Set weight to allow a very good chance at doing movements unbroken.
50 Burpee February
50 Burpee February – Day 4 (2 Rounds for time)
50 Burpee February – Day 4

2 rounds each for time, rest 3 minutes between:

25 burpee box step up with a single load
*Use any load and carry it anyway you wish for the step up. Load should be somewhere in the 20-50# range.