Crossfit Cle – CrossFit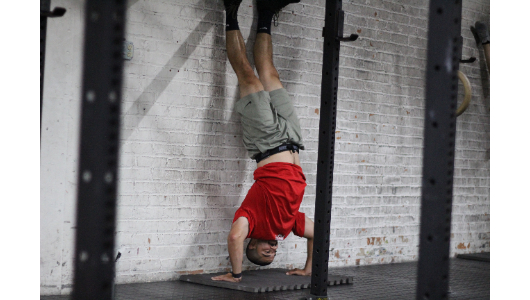 Just pushing on the world!
Warm-up
Warm-up (No Measure)
2 rounds, 30 seconds each station:

Box step over

Barbell push press

Yoga inchworm/spiderman

PVC passthrough
10 banded good morning

10 glute bridge

10 bird dog (tuck and press)
Go over Deadlift and cover the 2 second pause below the knee.
1 minute banded crossover R/L
Weightlifting
6 supersets on a 3 minute clock:
Deadlift (6×5)
5 pause deadlift 2 second hold just below the knee (50-60% of 1RM deadlift).
Handstand Push-ups (6x set)
Single calculated set of strict handstand pushup.

Predict fatigue. Start at around a 7 RPE to be able to keep all your sets the same without failure.
MetCon
Metcon (Time)
For time: *10 minute cap

50 box over 24/20″

30 power clean 135/95#

10m handstand walk (50 shoulder taps, scale to a box, pike or plank as needed.