Crossfit Cle – CrossFit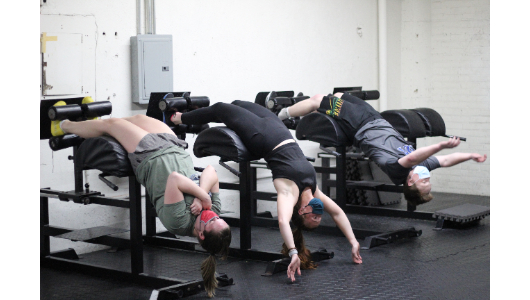 You need a lot of core strength for overhead squats. Hope you've been doing your situps!
Warm-up
Warm-up (No Measure)
2 minute row crescendo

15 PVC passthrough

6 K-squat

6 around the world R/L

10 overhead squat

10 lunge and twist

6 sumo foldover

6 sliding cossack squat
Weightlifting
Overhead Squat (5RM)
20 minutes to build to a 5RM overhead squat

*Between each of your first 3 sets, spend 2 minutes doing some shoulder, spine or hip mobility.
Metcon
Metcon (Time)
For time:

100 kettlebell swing

Each minute starts with 2 weighted box step over 24/20″
*Use a kettlebell that would allow you to swing 40+ reps unbroken when fresh.
Cooldown
Warm-up (No Measure)
2 minute light row

1 minute banded crossover R/L

3 way wrist/forearm stretch

1 minute pigeon stretch R/L