Crossfit Cle – CrossFit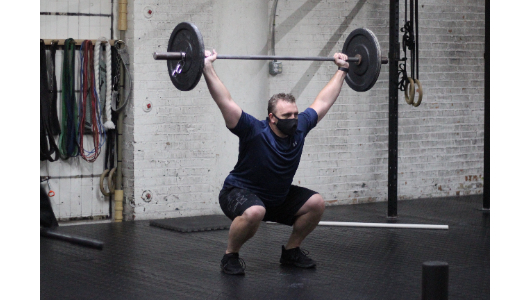 Let's all welcome William to the program! Happy to have you showing us how overhead squats are done!
Warm-up
Warm-up (No Measure)
3 minutes AMRAP:

10 spiderman burpee

30 single under

10 PVC overhead squat
2 minute keg stretch

1 minute elevated pigeon (R/L)

1 minute calf stretch (R/L)
Metcon
Metcon (AMRAP – Reps)
13 minute AMRAP:

2 burpee box over 24/20″

4 dumbbell snatch 70/50#

4 bbo

8 db snatch

6

12…
*Burpee box overs should be smooth and relatively fast. Dumbbell should be heavier than you usually use, but you should still be able to cycle for 10-20 reps when fresh.
Weightlifting
Snatch Balance (In 15 minutes:)
Build to a heavy set of 3 on a snatch balance

*This is a very technical lift. Focus on position and balance in your early sets to better enable good lifts when you get heavy.