Crossfit Cle – CrossFit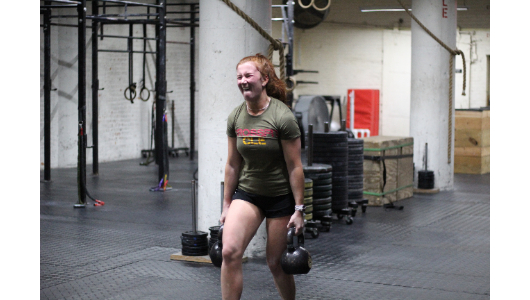 Here come the kettlebells!
Warm-up
Warm-up (No Measure)
2 rounds:

10 banded strict press

5 I-raise

10 pvc passthrough

5 crossover snow angel
10 cossacks squat

10 updog windmill

10 kneeling dumbbell strict press (R/L light)
1 minute banded hip opener (R/L)

2 minute thoracic spine roll
Weightlifting
Kettlebell Complex (5 rounds on a 4 minute clock)
Perform a sequence of movements with a kettlebell/s.
7 kettlebell strict press

10 walking lunge (in front rack)

5 windmill R/L (adjust weight to be able to work on a full, range of motion with good control)

*Build for 2 rounds, hold for the final 3
Metcon
Metcon (AMRAP – Rounds and Reps)
5 minute AMRAP:

40 wallball shot 20/14 to 10/9″

25 pullup

10 power snatch 60% of your 1RM power snatch
Rx+ for Chest to bar pullup.