Crossfit Cle – CrossFit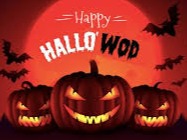 Happy Halloween! We will not have class today at 5:30 or 6:30pm to allow our coaches and you all to enjoy some Trick-or-Treating!
Warm-up
2 minute erg

10 pvc passthrough

10 good morning

5 down and finish

5 high pull

5 high hang muscle snatch

5 overhead squat

5 hang power snatch

5 power snatch

10 pushups with hand movement

5 yoga inchworm
Set up and warm up each movement for the HalloWOD!
Metcon
31 rounds, 10 reps per round! Happy Halloween everybody!
Happy HalloWOD (Time)
31 rounds for time: *Optional 31 minute cap

1 muscle up (sub 3 dips)

2 power snatch 115/80#

3 overhead squat

4 bar facing burpee

*Rx+ for 135/95#
Post Metcon Accessory
All about control! Keep weights managable and work on your ROM and the control you keep through it.
Metcon (Checkmark)
3 superset rounds, not timed:

10 Romanian deadlift R/L

5 weighted windmill R/L (Reach straight between the feet/toes rather than down the leg)