Crossfit Cle – CrossFit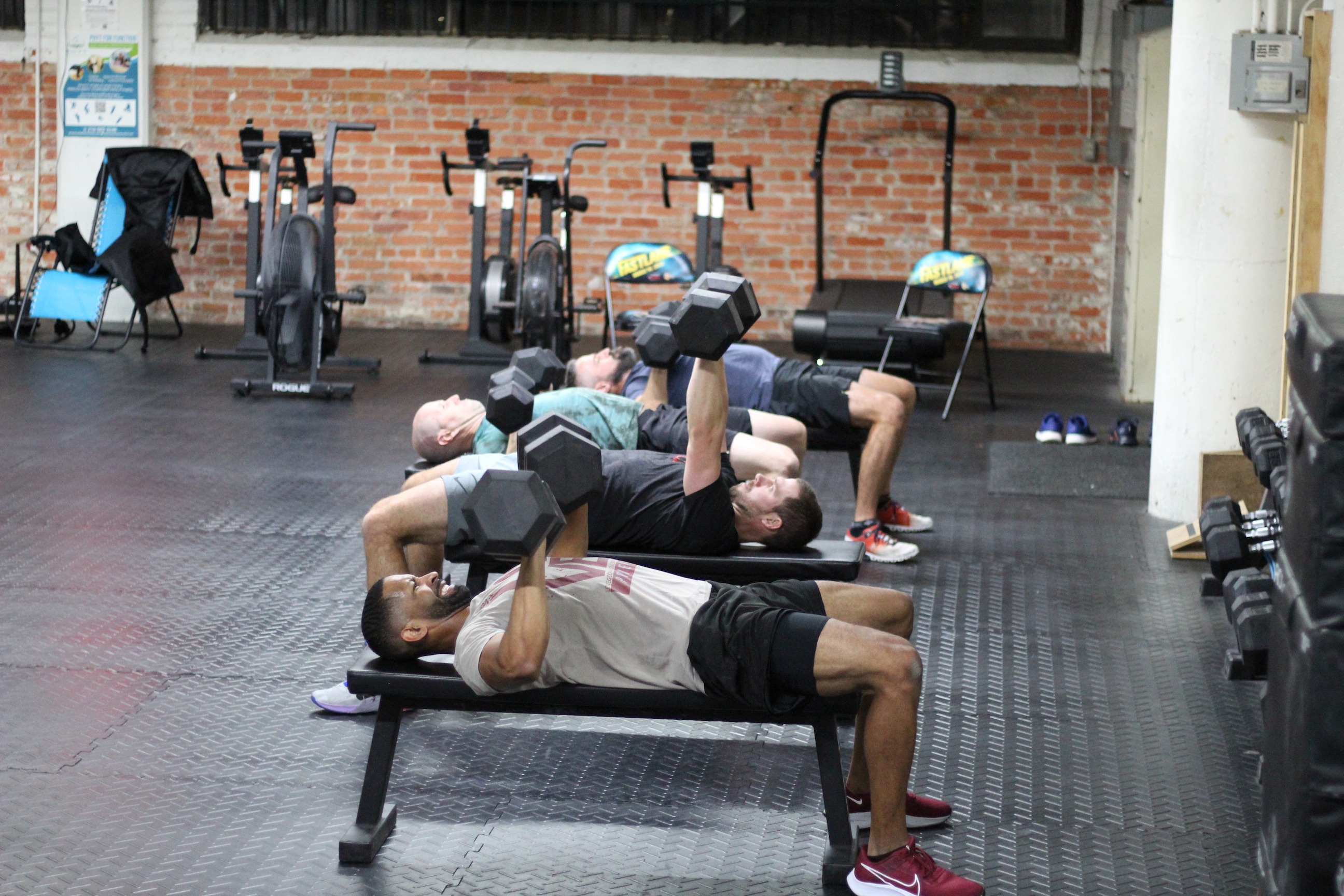 Big weights don't move themselves!
Warm-up
2 minute row

20 elephant trunk

10 squat jump

15 pvc passthrough

10 good morning

5 front squat and shoot and squat and sots press

10 spiderman pigeon

10 pushup changing hand positions
90 second scorpion with pec stretching

1 minute banded crossover R/L
5-10 light suitcase deadlift

5 easy and safe box hop from a seated start

2 sets of warmup bench press
Weightlifting
Weightlifting:

5 superset rounds on a 4 minute clock:

5 bench press 65%+

10 suitcase deadlift with 2 kettlebells (Heavy but smooth without loss of core control)

5 box hop front seated start
Bench Press (5×5 increase from 65% of your 1RM)
Build up and only ask for a spotter on your final set. Pause at the top to reset your core and brace against the floor.
Suitcase Deadlift (5×10 using 2 kettlebells)
Use relatively heavy loads without sacrificing core position. Hips will sink lower than a traditional deadlift and weights should touch be floor beside the mid foot. Keep some load in the heels. Increase if position and technique allows.
Box hop from a seated start (Distance)
Sit on box that places the hip crease right at the level of the top of the knee. Rock forward and launch.
5×5 Start with a safe height that allows you to build confidence. Increase height if possible. If you are not confident coming out of the seated start, then work on landing higher on the box (less in a squat, more in a power position) this will equate to a more forceful jump without the added risk of a higher box.
MetCon
Short to mid range AMRAP, keep your rests to a minimum. Break up sumos before front squats so you don't have to do extra cleans. Smooth burpees staying low over the bar. Weights should not be heavy, allowing you to move quick reps and unbroken front squats.
MetCon (AMRAP – Rounds and Reps)
7 minute AMRAP:

10 sumo deadlift high pull 75/55#

10 front squat

10 lateral burpee over barbell

*Rx+ for 95/65#.